Next Showing: La Esquinita, U.S.A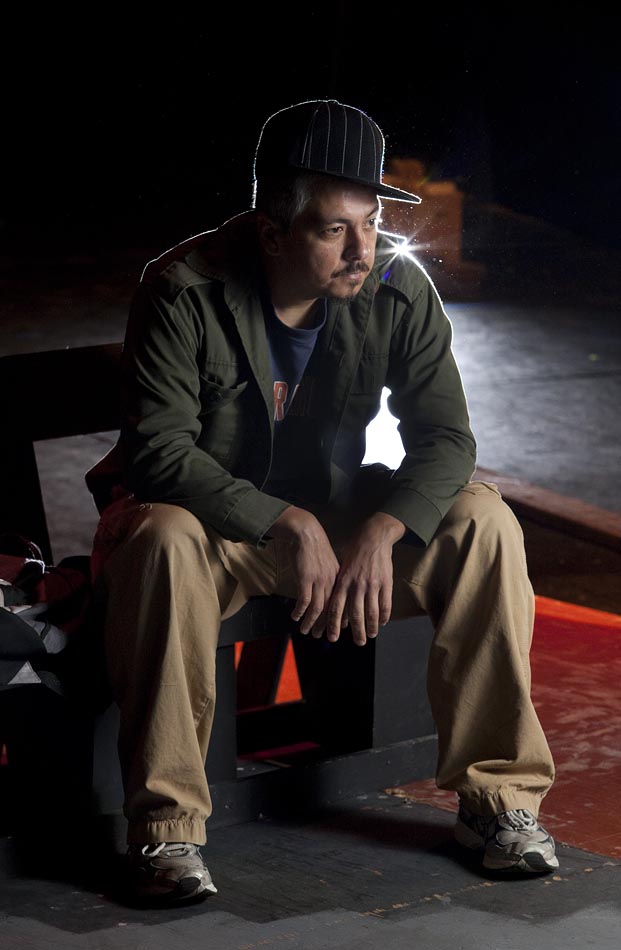 LA ESQUINITA, USA


A post-industrial tale of a small American town.

LA ESQUINITA, USA is the latest installment of the Mad Mexican's solo performances by Rubén C. González. This time around he is not so mad and the world is better for it. Now, the ZEN Mexican takes us on a passage through a once booming town LA ESQUINITA, USA but now forgotten like so many others. This story is told by the omniscient narrator LENCHO and experienced through the eyes of, DANIEL, a young man who is at the peek of his Crystal Meth high while standing at the threshold between Light and Darkness. The main source of employment, The Thompson Tire Factory has gone to China leaving the town's infrastructure in disarray. False idols of hope are the only source of relief and the citizens of this dilapidated town are left scavenging for what little remains. What happens to a town when promises from Big Business are broken? What happens to its people? Meet LENCHO, DANIEL and several other characters in this tale of love, forgiveness and ultimate redemption.
Next Showing: La Esquinita, U.S.A
Date: Friday October 21st 2016  Time: 7:00pm  - 8:00pm
Location: Teatro Ecas, 57 Parkis Ave, Providence, Rhode Islan
Contact: Francis Parra E-Mail: ecastheater@yahoo.com
Phone: (401)680-0087

REVIEWS FOR LA ESQUINITA, USA
---
"Gonzalez, a mercurial silver haired writer/actor slid effortlessly between portrayals of multiple denizens of a fictitious American city...Gonzalez's performance was first-rank in a poetical two act play…"

—Steven Leigh Morris, American Theatre Magazine
"...The Arizona Theatre Company's latest offering, "La Esquinita USA," even in the desperation of no jobs, lots of drugs, and lost dreams, hope blossoms...That's the power of this piece, written and performed by Ruben C. Gonzalez. This is not a trumped-up 'look-everything -is-bad-but-we'll-make-it-good' show. The loss of hope hangs heavy in this play thanks to Gonzalez's seamless characterizations and poetic writing. But through the darkness, we see some light...Gonzalez is a powerful presence. His play, packed with enough humor to make the tragedy palpable, is powerful, as well. And the message seems right for today: Fight, believe, act, be kind and open, and hope will live again." 
-—Kathleen Allen, Tucson Daily Star Magazine
 "…The progression of characters is not merely a linear one, but a weaving together of the various personalities resulting in an intriguing and powerful impression. González the actor transforms from one to another with seeming ease. Sometimes it may take a moment for us to catch up with who's who, or not comprehend an accent or Spanish phrases, but it's not really a problem. The result is a mesmerizing, kaleidoscopic and penetrating moment…Part of the power of this piece is the compassion revealed, not only González' heartfelt energy with which he creates and shares his characters, but also within himself. For this is certainly himself revealed, not in the sense of "look at me," but in his desire to distill the humanness of these characters with full heart and land them safely, and with hope, in our hearts."
-Sherrilyn Forrester, Tucson Weekly
"Gonzalez's adeptness at lightning-fast transitions from one character to another, never losing a beat or dropping a line or the story's thread, and inhabiting each character with a full stage role's dedication, is a marvel to behold. He keeps his audience enchanted and eager to know where the journey leads, who might emerge next."

—Alexandra Bonifield, Theatre Jones, Dallas
"… Gonzalez is a consummate urban poet, blending the languages of the street and the idiosyncrasies of his characters into a rhythmic and harmonious revelation of uncomfortable truths and challenging possibilities…Gonzalez pivots and slides from one impression (each a distinctive persona) to another with the agility of an alley cat, morphing at times into a zen-like master who facilitates each transition with frames of spiritual wisdom."

—Herbert Paine, Broadway World (Phoenix)
"La Esquinita, USA is nothing if not timely. Beautifully acted and neatly staged… This fast-paced and often funny play transforms González's words into a series of intertwined monologues, each of them brought vividly to life with a minimum of costuming or contrivance…We forgive González all this dark despair not only because he enacts it with such grace but also because he's resisted a tidy "Let's make lemonade!" approach to the harrowing death of the American factory town. His is a story drenched in fear and hopelessness, one that brings its beauty not in promises of brighter days but in the rich, poetic language in which it's told."

—Robrt Pela,  Phoenix New Times
"Gonzalez' piece focuses squarely on what the economy has done to the soul, As Lencho so eloquently states, "People's worth is determined by their debt." The soul of the characters is the heartbeat of the piece. Much like John Leguizamo in the Tony Award nominated "Freak" in 1998, Anna Deveare Smith in the early 1990's, or more recently, one-man show virtuoso Danny Hoch at Berkeley Rep in 2008, Gonzalez filled the space at the ETC playhouse with characters that are hilarious, memorable and heartbreaking…Gonzalez is one of the most critical voices going in the Bay Area. He is a first responder to the emergency of our souls, and does not provide us with an easy out. He just asks questions, as evidenced by the ending of the show. What will Daniel do? Has he realized yet that if he hurts someone, he hurts himself? Is there hope? Gonzalez asked the questions. Now it's time for us to come up with the answers."

—David Chavez, Examiner.com
REVIEWS FOR PREVIOUS WORKS
---
L.A. WEEKLY *Pick of the Week*
REVIEWED BY MARTIN HERNANDEZ

Diary of a Mad Mexican A redneck lamenting the "goddamned Mexicans" who've moved in next door ends up abducted by "aliens" (and no, not extraterrestrial). A smarmy game-show host's inner monologue reveals his prejudice against minority contestants. A Chicano actor shares regrets about leaving the love of his life, a white girl in New York. These are just a few of the characters depicted in writer-performer Ruben C. Gonzalez's angry, hilarious, bittersweet one-man show skewering stereotypes on both sides of the psychic border. Gonzalez plays both demon of American racism and a Mexican defending himself against bigotry ("I've never been a cholo, I don't even know how to iron!") Gonzalez's engaging stage presence and thought-provoking monologues, under Jim Ishida's direction, make for a compelling evening of theater for the inner Mexican in us all.
NOHO NEWS MAGAZINE
Reviewed by Cheryl Klein

Ruben C. Gonzalez's solo show Diary of a Mad Mexican is actually more like a photo album featuring exquisite snapshots of 9 distinct characters. The first subject enters through the back door, muttering about those, "*#%!?@ cholos" from beneath a shock of greasy hair. He's the kind of guy to get abducted by aliens (which he soon does, "little brown men from the planet Mexico), and nod knowingly when the topic of government conspiracies arises. In other words, he's a trite, easy target. But you can't judge an entire family album by their drunk uncle. Gonzalez's ensuing portraits establish him as a rough-around-the-edges, Danny Hoch. Like the hip hop obsessed solo artist, Gonzalez blends humor and social commentary, unearthing archetypes that until now resided only in our collective subconscious. Though he hasn't honed Hoch's chameleon-like dialects or straight-to-the-point narrative, Gonzalez clearly gets it- "it" being the gray areas and vulnerabilities that make cultural issues so complicated and fascinating. Gonzalez plays, among other characters, Frankie, a gangsta-turned-revolutionary reminiscing about his homies (Puppet, Little Puppet, Semi-Puppet and Gepetto, the Godfather of all puppets), whose wise determination to instigate change should freak out the patriarchy far more than any drive-by. Diary captures a population pulled maddeningly between conflicting stereotypes. Turning its pages is a tragic, silly, delicate joy.
BACK STAGE WEST *Critics Pick*
REVIEWED BY LAURA WEINERT
There is one scene in this lively one-man series of monologues which ruben C. Gonzalez performs with his head in a jerking box. It's an apt image for what, I believe, is at the heart of this virtuosic collection: the maddening sense of entrapment and disorienting nausea cultural stereotypes inflict upon their subjects. Gonzalez has put his knack for dialects and his sense of satire to work, creating an intriguing array of portraits and parodies which skewer Mexican stereotypes and trace the foundation for his premise. "we're more than the lines the world draws around us or the creases in our khakis." His characters both anger and tickle us, emerging as modern-day devils or existential heroes who reflect a reality this is uniquely Angeleno.
The devils are sadly familiar. We meet Earl, a racist rocker who blames Mexicans for everything from traffic to pollution and wishes they'd "go back to where they came from." Then there's Bob Banker, the host of The Price is Not Right, who warns his game show guests: "You know you need a green card to redeem your prizes, No green, no dreams."
Even God has his belittling message. His face half-covered in a skeleton mask, Gonzalez enacts a conversation between God and a kind of Mexican-American Everyman, showing us the psychological game between oppressor and oppressed. God tells him what he's cut out for; places with "high walls and barbed wire." Our hero grows defiant: "But I haven't danced Folklorico in all my life!" he says, "I don't even have an uncle who's a priest or a mechanic. My sisters are Chicana feminists-they don't take shit from nobody!"
Most memorable is the sketch about Frankie, the cholo intellectual, an ex-prisoner who explains jail, Herman Hesse, and how he learned to meditate "like this yoga vato in this yoga book that I read." He's a volunteer at Turnaround Outreach, whose friends jab at him: "what's up Frankie? You're like the East L.A. Mother Teresa!" Frankie explains: "one vato cannot give another vato a compliment without making fun of him."
All of Gonzalez's characters are written and performed with sincerity and verve, leaving us eager for our next trip to "Planet Mexico." Even at the more serious turns, Gonzalez is controlled and convincing, whether as an impoverished man from Jalisco who pours out his heart to a dining couple, or in his last sketch, a young Chicano man who decides to leave his blonde, blue-eyes girlfriend behind, despite her insistence that they are "a lot alike."
DALLAS FORT WORTH STAR-TELEGRAM
Reviewed by Mark Lowry
The key word in the title Diary of a Mad Mexican is Mad. Actor-writer Ruben C. Gonzalez presented the one-person show last night at north Fort Worth's Roseland Marine Theater.
Gonzalez could have lined up a parade of the usual generic characters or gone after clichéd Mexican stereotypes and there is some of that. But at the heart, the show is about how we drive ourselves mad when we squeeze our brains in a desperate effort to make sense of who we are and why we're here.
Diary is transformative. Not only do we laugh and marvel at an actor's ability to change characters, but we also reflect on them.
Gonzalez begins as Earl, inspired by "that white guy who lived next to me," he says in his program notes. Until he is visited by aliens from planet Mexico, Earl spews racial epithets and expletives, quickly establishing that this show isn't suitable for the easily offended.
His funnier moments come as Dr. Crookedback, a scholar demonstrating the historical changes in Latin peoples as shown in the curvature of their spines, and as Butch, an effeminate TV psychic daring the male audience members to turn him off.
The poignant, and most memorable moments are when he's most introspective, as in the portrayal of a reappearing half-prisoner/half guard who intellectually questions existence and as a lonely man discussing the love of his life.
The show, produced by legendary El Teatro Campesino, is brought to North Texas by Dallas' Cara Mia Theater Co., moves to night to Dallas. It's worth the drive.